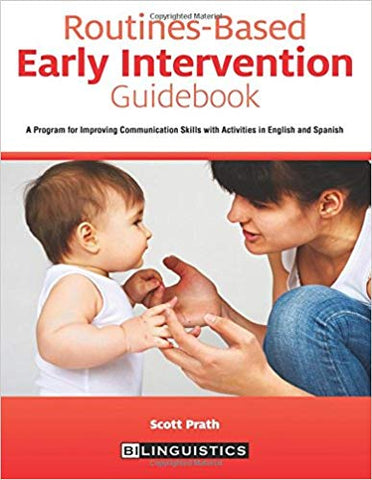 Routines-Based Early Intervention Guidebook
RBG1
By Scoth Prath
 Successfully increase communication and interactions of young children while simultaneously reducing frustration.  These routine-based early intervention activities contain parent strategies, instructions for signed communication, and developmental norms, all of which are in both English and Spanish.
Practitioners love the easy data collection, easy-to-follow session plans, and resources for parents.  Parents love the progress their children make with the easy-to-follow instructions for labeling items and actions, modeling phrases, imitating sounds, and expressing preferences.
Based on the experiences and research of bilingual SLPs, these lessons have been field-tested with families to ensure progress, satisfactions, and reduced planning time for professionals.
Meets the needs of children with a variety of disabilities:  Down Syndrome, ASD, Cerebral Palsy, Language Delays, and children from different language backgrounds ( English, Spanish, English/Spanish).
---
We Also Recommend