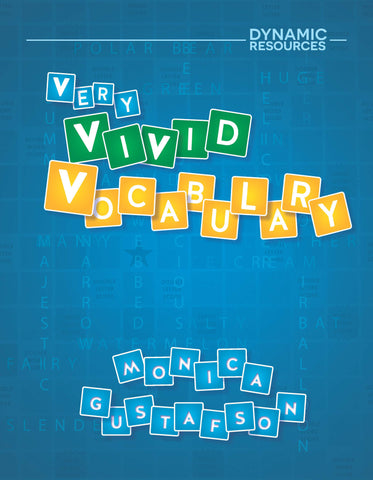 Very Vivid Vocabulary
Product Code: VVV36

By Monica Gustafson
Build descriptive Tier 2 vocabulary and help your students meet Common Core State Standards.
Utilizes evidence-based strategies for effective vocabulary instruction:
Vocabulary instruction should focus on high-utility, cross-domain words (tier 2).
Student must represent new word knowledge through multiple modes.
Multiple exposure to new vocabulary is critical.
Active engagement is essential
Very Vivid Vocabulary is divided into several sections that include reproducible resources to facilitate the development of Tier 2 vocabulary words through a variety of activities. Educators may use the materials as they choose, or use the Sample Activities provided.
Section A: Word Bank Book Pages
Provides reproducible Activity Sheets that form the basis of students' individual Word Bank Books and other vocabulary-building activities.
Section B: Chart It! Choose It!
Includes activities to develop Tier 2 words to describe specific people, places, animals, and things. The targeted stimuli are listed alphabetically and can be used in any order. There are a variety of levels of difficulty so that educators can tailor the lesson to the needs of the learners.
Section C: Write It!
This section provides templates for writing original paragraphs and stories using newly acquired descriptive vocabulary
Section D: Index of Descriptive Words
This section provides lists of descriptive vocabulary words related to colors, senses (adjectives), and movement (adverbs). These words can be used as the foundation for the suggested lessons and other activities developed by the educator.
Each set of activities can be implemented in a variety of ways to support vocabulary development. These activities may be used in individual instruction, with small groups, or entire classrooms.
---
We Also Recommend