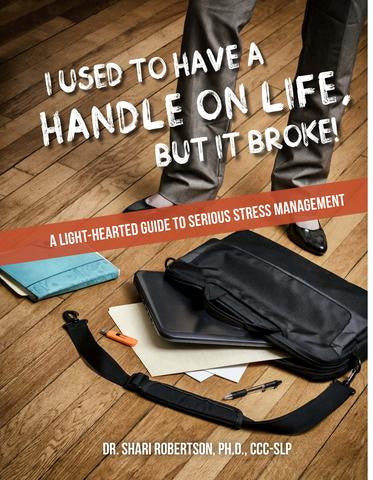 Special Price: I Used to Have a Handle on Life, But it Broke: A Lighthearted Guide to Serious Stress Management
SPECIAL PRICE!  $20.00  
We could all use a little less stress right now!  
Product Code: HOL2020
by Shari Robertson
This book is the compilation of work that Shari presents at her sold-out presentations on this topic.  It is divided into two parts:  Part I addresses how to manage time and stress in personal and professional settings.  Part II focuses on managing difficult people.  Both are packed with practical information, personal resources, and Shari's own brand of humor.  (We dare you not to laugh)
Table of Contents: 
FOCUS ON YOU
1.  Setting the Stage
2.  Identifying your Time-Stealers and Stress-Producers
3.  Personal Goal Setting
4.  The Master List
5.  Communicating Effectively
6.  Conquering Workplace Clutter and Office Chaos
7.  Girls (and Boys) Just Wanna Have Fun
8.  I Wanna Be a Schwa
FOCUS ON OTHERS (Dealing with Difficult People)
9.  Why Are People so Difficult?
10.  Managing Adults Behaving Badly
11.  How NOT to be Difficult
12.  Difficult People Big Ideas
BONUS BLOGS, ACTION PLAN, ETC
---
We Also Recommend