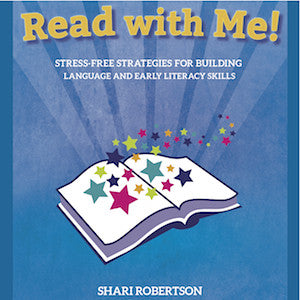 Read with Me!
Product Code:  RWM12  (manual only)
Click here to order Resource Kit (Manual plus 6 books) RWM6
By Shari Robertson, PH.D., CCC-SLP


Parent handouts are now available in Spanish
Read with Me! Stress-Free Strategies for Building Language and Early Literacy  

The Read with Me program consists of six strategies that facilitate language and early literacy skills through active participation in the reading interaction. These interactive reading strategies are:
Echo Reading
Paired Reading
Friendly Questions
Prediction
Wordless Books
Reader's Theatre
The strategies can be used with children aged 18 months through 8 years (and beyond) and implemented by parents in the home, educators at school, or in individual or small group intervention.
Everything necessary to implement these strategies directly or to teach them to others comes with this manual including:
Overview of Background information
Lesson Plans and Training Tools
Handouts for Parents and workshop participants
Extensive booklists for each strategy
Pre and Post Measurement Surveys
Access to a free introductory information Power Point Presentation (and the accompanying narrative)
And More!
Read with Me targets the fundamental skills of talking and listening as a basis for the development of literacy. Additional core competencies related to the development of language, such as phonological and phonemic awareness, vocabulary development, reading fluency, and critical thinking skills are supported within the joint reading interaction.
Most importantly, Read with Me helps children and adults find the joy in reading together-the most fundamental of all the foundational reading skills.
- includes Read with Me Manual plus 6 children's books - one to demonstrate each RWM strategy.
READ WITH ME COLLECTION
- includes 7 children's books - one for each RWM strategy (plus a bonus!)
Need lots of books?  We can provide customized parent packs at substantial discounts.
DOWNLOAD Reproducible  Handouts and Resources from Read with Me! (Each link will take you to a private dropbox file. Use the code provided on page 112 of Read with Me to access all PDFs):  SPANISH VERSIONS NOW AVAILABLE!
 Family Book List  FREE LINK.  NO PASSWORD REQUIRED
How to Engage Children With Echo and Paired Reading
How to Engage Children With Friendly Questions and Prediction
How to Engage Children with Wordless Books and Reader's Theatre
If You Give a Child A Book poem
RWM Point Point Presentation 
(Link will take you to a private dropbox. Use the code provided on page 112 of Read with Me  to access all PDFs):
---
We Also Recommend