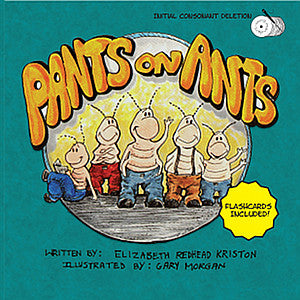 Pants on Ants
Product Code:  POA1
Initial Consonant Deletion
By Elizabeth Redhead Kriston, M.A., CCC-SLP
Illustrated by Gary Morgan
Now in its second printing!

Pants on ants?  Eggs with legs?  Apes with capes?  From playtime to bedtime, things are "just not right"! 
The first book of the Word Menders series, Pants on Ants is a fabulous, fun romp that engages children (and adults too!) with its vivid imagery and strong rhythm and rhyme.  But there is more to this carefully-crafted storybook than its cover!  
Built-in minimal pair contrasts target initial consonant deletion for children who demonstrate this process and phonemic awareness for all listeners.  
Pants on Arts includes a set of flashcards, which store in a handy pocket inside the back cover, that provide direct practice of the targeted minimal pairs and opportunities to extend the story. SLPs will find many ways to use Pants on Ants both as a therapy tool and as a send-home-and-read-together book for all to enjoy.

ARTICULATION AND PHONOLOGY: Initial Consonant Deletion
READ WITH ME STRATEGIES: Echo Reading, Paired Reading, Questioning, Predicting
NATIONAL READING PANEL TARGETS: Phonemic/Phonological Awareness
PRAISE FOR PANTS ON ANTS
What a treat to have a book that is written by and SLP FOR SLPs! The minimal pairs are perfected suited for phonological process intervention as well as a host of other applications.

My daughter has asked to read this book every day since it arrived.

The flashcards are really terrific. My son loves to create new stories with them!

The rhymes are fun and in no time kids are filling in the story from memory. I can't wait for the next book in the series!

As a mom of an emergent reader and a kindergarten teacher for 10 years, I say add this to your book collection today!
FREE EXTENSION MATERIALS FOR PANTS ON ANTS can be found in our ONLINE LEARNING LIBRARY
---
We Also Recommend